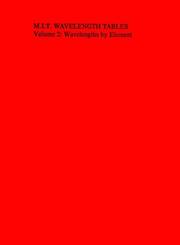 Massachusetts Institute of Technology wavelength tables : with intensities in arc, spark, or discharge tube of more than 100,000 spectrum lines most strongly emitted by the atomic elements under normal conditions of excitation between 10,000 A. and 2000
1969 ed. / with errata and certain revisions..
Cambridge, Mass. : M.I.T. Press, [1969]-1982]

.
ISBN
0262160870,
0262080028
Location
Call Number
Status
Consortium Loan
George Washington

WRLC Shared Collections Facility

v.1-v.2

WRLC Shared Collections Facility


QC453 .M36 1969 (show me on map) v.1

Off-site



Request

WRLC Shared Collections Facility


QC453 .M36 1969 (show me on map) v.2

Off-site



Request
American

WRLC Shared Collections Facility

v.1-v.2

Held at WRLC Center; available for delivery.

QC453 .M35 1969

Off-site

Request
George Mason

Fenwick stacks


QC453.M3 M3

Available

Request
Georgetown

Science Reference


QC453 .M36 1969 vol. 1
LIB USE ONLY

Science Reference


QC453 .M36 1969 vol. 2
LIB USE ONLY
Howard

Founders Library stacks


QC453 M36 1969

Available

Request

Founders Library, Reference


QC453 M35 1969

Available

Request
Services
Export citation to: RefWorks