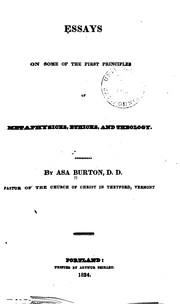 Essays on some of the first principles of metaphysicks, ethicks, and theology. A facsim. reproduction, with an introd. by James G. Blight.
Delmar, N.Y., Scholars' Facsimiles & Reprints, 1973.
ISBN
0820111147
Location
Call Number
Status
Consortium Loan
Catholic

WRLC Shared Collections Facility


B908.B97 E7 1973

Off-site



Request
Gallaudet

UNIV Electronic Book

Access Restricted to Current Gallaudet University Members - Login Required

Electronic Book
Marymount

Marymount Electronic Books


B908.B73 E6 1824 Electronic Book.
Subjects
Ethics.
Psychology.
Theology.

Description
xvi, 414 p. 23 cm.

Notes
Facsim. of the 1824 ed., printed by A. Shirley, Portland, Me.
Includes bibliographical references.

Network Numbers
(OCoLC)00605777

WorldCat
Search OCLC WorldCat
Services
Export citation to: RefWorks