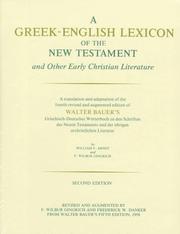 A Greek-English lexicon of the New Testament and other early Christian literature : a translation and adaptation of the fourth revised and augmented edition of Walter Bauer's Griechisch-deutsches Wörterbuch zu den Schriften des Neuen Testaments und der
2nd ed., rev. and augmented / by F. Wilbur Gingrich and Frederick W. Danker from Walter Bauer's 5th.
Chicago : University of Chicago Press, [1979]

.
ISBN
0226039323,
9780226039329
Location
Call Number
Status
Consortium Loan
George Washington

Gelman stacks NON-CIRCULATING


PA 881 .B38 1979

Available

American

LIB stacks


PA881 .B38 1979

Available

Request
Catholic

Humanities Greek and Latin Non-circ


PA881.B34 E5 1979

Available

ICOR Non-circ

Shelved in the ANE Seminar Room

ICOR Non-circ


225.51 B344 1979

Available

Semitics Non-circ


PA881.B34 E5 1979
Missing
Georgetown

Lauinger Woodstock stacks


487.3 B326, W621
Missing

Lauinger Woodstock Ref


487.3 B326, W621
LIB USE ONLY

Lauinger Ref stacks


PA881 .B38 1979
LIB USE ONLY

Lauinger stacks


PA881 .B38 1979
DUE 01-31-2019
Howard

Divinity Library stacks


PA881 B38 1979
Missing

Divinity, Reference


PA881 B38 1979

Available

Request

Divinity, Reference


PA881 B38 1979

Available

Request

Divinity, Reference


PA881 B38 1979

Available

Request

Divinity, Reserves


PA881 B38 1979

Available
Other Authors
Bauer, Walter, 1877-1960.
Danker, Frederick W.
Gingrich, F. Wilbur 1901-1993.

Subjects
Bible. New Testament -- Dictionaries. English.
Bible. New Testament.
Grec biblique -- Dictionnaires anglais.
Greek language, Biblical -- Dictionaries -- English.
Greek language, Biblical.

Description
xl, 900 pages ; 26 cm

Copyright Date
[1979]
©1979

Notes
Includes bibliographical references.

Genre
Dictionaries.

Network Numbers
(OCoLC)4135874
(OCoLC)ocm04135874

WorldCat
Search OCLC WorldCat
WorldCat Identities
Arndt, William, 1880-1957.
Publication timeline, list of works, related names and subjects and other information
Services
Export citation to: RefWorks