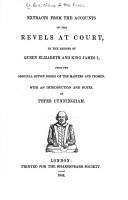 Extracts from the accounts of the revels at court, in the reigns of Queen Elizabeth and King James I., from the original office books of the masters and yeomen. With an introd. and notes by Peter Cunningham.
[1st AMS ed.] London, Printed for the Shakespeare Society, 1842..
[New York, AMS Press, 1971, 1842]

.
ISBN
0404018858
Location
Call Number
Status
Consortium Loan
American

LIB stacks


DA350 .G7

Available

Request
Services
Export citation to: RefWorks