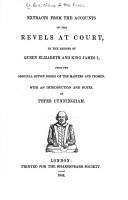 Extracts from the accounts of the revels at court, in the reigns of Queen Elizabeth and King James I., from the original office books of the masters and yeomen. With an introduction and notes by Peter Cunningham.
[1st AMS ed.] London, Printed for the Shakespeare Society, 1842..
[New York, AMS Press, 1971, 1842]

.
ISBN
0404018858
Location
Call Number
Status
Consortium Loan
American

LIB stacks


DA350 .G7

Available

Request
Other Authors
Cunningham, Peter, 1816-1869.
Shakespeare Society, London.

Subjects
Courts and courtiers.
England -- Social life and customs.
Great Britain -- Court and courtiers.
Manners and customs.
Prices -- Great Britain -- History.
Prices.
Theater -- England -- History -- 16th century -- Sources.
Theater -- England -- History -- 17th century -- Sources.
Theater -- Great Britain -- Early works to 1800.
Theater -- Great Britain -- History -- Sources.
Theater -- Great Britain -- History.
Theater.

Description
li, 228 pages 23 cm.

Copyright Date
1971, 1842]

Genre
Early works.
Sources.
History.

Geographic Area
Great Britain
England

Network Numbers
(OCoLC)00389594
(OCoLC)389594

WorldCat
Search OCLC WorldCat
Services
Export citation to: RefWorks